Innopro
The protection pros
InnoPro is a firm dedicated to ongoing innovation in the design and production of professional-quality protective components for heating and air-conditioning systems. Their work seeks to ensure the optimal operation of units while increasing their service life.
Innopro specializes in designing innovative accessories to HVAC products. We aim to satisfy the needs of consumers and professionals by being at the forefront of innovation in the heating, ventilation and air conditioning industry.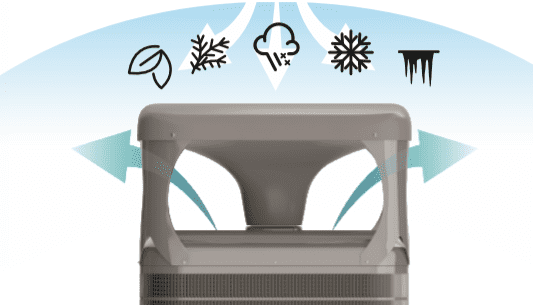 INNOTOP
Top in protection
Cold, snow, ice, bad weather, microparticles: all of these can damage your heating and air-conditioning system. Protect it and reduce service calls while increasing the service life of your unit.
Quite simply, a protected heating and air-conditioning system lasts longer!
MAINTENANCE
For optimal performance
The InnoPro tops must be maintained in winter, especially during snowstorms.
Heavy ice and snowfall from the roof of your house can damage your InnoPro protective top and your heat pump.
Note that all units have been tested to support a maximum load of 200 pounds.